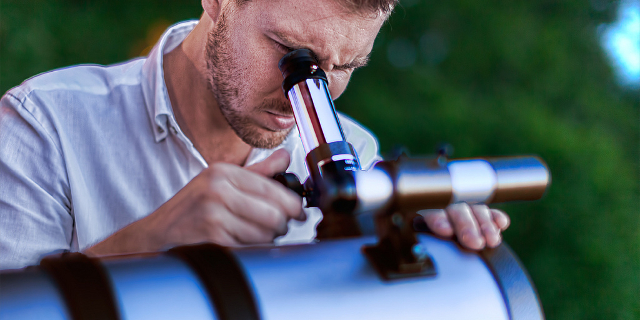 A beginner who is seriously interested in astronomy should plan to spend between $300 and $400 when buying their first telescope. This may be too expensive for some while others may be comfortable spending considerably more.
A good starter telescope should:
fit within your budget
be simple to setup
be easy to use
have a sturdy mount
have a large aperture
provide early success
allow you to learn and grow with it
A common experience with beginners who buy a small aperture telescope is that after the first few nights of stargazing they have a strong desire to upgrade to a telescope with a larger aperture.

Say no to GoTo
We do not recommend buying a GoTo as your first telescope and suggest you ignore the advice of those who do. Half the fun of picking up a new hobby is seeing your skill-level progress after starting from scratch. Learning how to navigate the night sky is a skill that you can only acquire through practice. Looking up celestial objects in a database and letting your computerized telescope do all the work is not how you learn. Expect to spend at least $700 for a decent GoTo unless you're willing to settle for a small aperture and lower quality optics.
What is the best telescope for beginners?
If you want the best bang for your buck, an 8″ Dobsonian reflector is the largest aperture telescope you can buy for under $400. Remember that aperture is the most important specification to look for when choosing a telescope. The larger the aperture, the more light will be collected resulting in brighter and sharper images. An 8″ aperture telescope has 78% more light gathering capability than a 6″ aperture telescope. You'll quickly understand why these telescopes are called light buckets.
A Dobsonian is a Newtonian reflector telescope with a sturdy and simplified altazimuth mount, sometimes called a rocker box, that sits on the ground. The simplicity of these mounts means that they are cheaper to manufacture and more money can be spent on the optics, resulting in much larger apertures than other telescopes at the same price point.
Setting up a Dobsonian is quick and easy – just place the optical tube in the base and add an eyepiece, that's it! The telescope is moved by hand (up and down, left and right) to locate a celestial object and then nudged to track its motion across the sky. They are much more intuitive to operate than equatorial mounts. With the eyepiece located at the front of the tube, Dobsonians provide a consistent and comfortable viewing height.
There are three telescope brands with excellent 8″ Dobsonians to choose from: Orion, Sky-Watcher, and Zhumell. Of the three, Zhumell is considered to be the best but is also the most expensive, Sky-Watcher has the lowest cost, and Orion is known for their great customer service. If you're wondering where Celestron's Dobsonian offering is, its parent company, Synta, owns Sky-Watcher.
An 8″ Dobsonian is a fairly large telescope. The optical tube is about 4 feet long and weighs around 20lbs with the base adding another 20+lbs (the Zhumell dob is a little heavier). Most people should be able to handle moving the optical tube and base separately. However, if storage space or portability is a concern or you can't fit a telescope of this size in your car than you may want to consider a different telescope. Orion and Sky-Watcher do make slightly smaller 6″ aperture Dobsonian telescopes, Zhumell does not, and Orion even has a 4.5″ aperture Dobsonian with a total weight of only 17.6lbs.
As with other Newtonian reflectors, a Dobsonian will require occasional collimation, a process that involves manually adjusting the alignment of the mirrors for optimum optical performance. With practice it should take no longer than a minute or two to complete.
What can you expect to see with an 8″ Dobsonian?
This depends on a few factors including light pollution, atmospheric conditions, and the eyepiece. With an 8″ Dobsonian, views of open star clusters, the moon and the planets of the solar system are possible even in urban areas with light pollution. With good seeing conditions, Jupiter and Saturn will offer the most detail of the planets. Expect incredible views of Jupiter's cloud bands, 4 moons, and Great Red Spot as well as Saturn's rings, and its moons. You can see the changing phases of Mercury and Venus, the tiny disk shapes of Neptune and Uranus with green or blue coloring at high magnification, Mars as a small red disk and its polar ice caps are also a possibility. With a proper solar filter you can see surface granulation of the Sun and sunspots. You must use a solar filter or you can severely damage your eyes and go blind!
An 8″ aperture Dobsonian telescope has enough light gathering ability to view fainter objects like nebulae, galaxies, and globular clusters. While some deep-sky objects are visible in urban light-polluted areas, viewing fainter objects is more dependent on darker skies. You may need to get outside of the city for better views and to see more celestial objects including the 100 Messier objects and the Herschel 400 objects. At a dark site, an 8″ aperture will reveal the spiral structure of galaxies. Deep-sky observing requires time and patience. Using averted vision can help you see fainter details.
Astrophotography with Dobsonians
We recommend that beginners focus on learning how to operate a telescope and how to navigate the night sky before even considering astrophotography. While it is possible to use a Dobsonian to capture very short exposures of the moon and planets, these telescopes are better for viewing than for imaging.
A mount is the most important factor in astrophotography. An Equatorial mount is recommended for its very precise tracking and stability. Dobsonian mounts are not suitable for long exposure imaging of deep-sky objects. It is possible to buy or build an equatorial platform for your Dobsonian to allow tracking, however they are typically not precise enough for deep-sky imaging.
---
8″ Dobsonian Telescope Reviews
Each of the following Dobsonian telescopes has an 8″ (203mm) aperture, a focal length of 1200mm, a focal ratio of f/5.9, and a parabolic primary mirror. All of telescopes reviewed were priced at less than $400 at the time of this article's last update.
We have compiled a Comparison of Accessories table which is included below.

The Orion SkyQuest XT8 Classic Dobsonian Telescope is one of the most popular and most recommended telescopes for beginners. It would be wrong to suggest that it's exclusively for beginners as it's a great telescope for all levels of experience. It's the kind of telescope that many people hang onto even after they upgrade to a larger telescope or a GoTo.
The XT8 has essentially the same optics as the Sky-Watcher 8″ Traditional Dobsonian as they are both manufactured by Synta. It is an excellent telescope right out of the box that will allow you to upgrade accessories and add eyepieces over time as your skills improve.
The XT8 Dobsonian mount is very stable with relatively smooth rotation, just not as smooth as the Zhumell Z8. The simple azimuth bearings are comprised of three Teflon pads attached to the bottom base piece while the alt bearings consist of UHMW polyethylene pads. A system of heavy-duty tension springs secures the telescope to the base and keeps it in balance.
The EZ Finder II is a simple red dot reflex sight which does not provide magnification. You look through the finder's viewing window and align the red dot with the celestial object you wish to observe by moving the telescope. Most people prefer a finderscope although some favor red dot finders. Replacing the red dot finder with a finderscope or Telrad finder is one possible upgrade you could make down the road.

The XT8 comes with a 25mm Sirius Plossl 1.25″ eyepiece which has a 52° apparent field of view and provides 48x magnification. With a 25mm eyepiece in suburban conditions, you should be able to observe of the moon, planets, and deep-sky objects like nebulae, star clusters, and galaxies like Andromeda. For better lunar and planetary detail you will likely want to buy an additional eyepiece. A 6mm wide-angle eyepiece with long eye relief will provide 200x magnification and would be an ideal add-on. You may also want to consider a 15mm wide-angle eyepiece (80x magnification) to fill the gap for viewing deep-sky objects.
The 2″ Crayford single-speed focuser has large focus knobs which are smooth and keep the image steady while focusing. It comes with a removable 1.25″ adapter to allow use of 1.25″ or 2″ eyepieces.  The single-speed focuser is good but a dual-speed focuser would be better. Again this is something that you could upgrade in the future.
The collimation tool is a simple cap with a hole in the middle and a reflective surface on the back that is placed in the focuser. It does the job but you may consider upgrading to a laser collimator for easier collimation. This YouTube video walks you through the steps to collimate the XT8.
The steel optical tube is 46.5″ long and weighs 20.3lbs with the wood base weighing an additional 20.7lbs for a total assembled weight of 41lbs. The XT8 is well constructed and should last a lifetime. If you don't think the XT8 will fit in your car, have limited storage space or if you just want to save some money, consider the Orion SkyQuest XT4.5 Classic Dobsonian or Orion SkyQuest XT6 Classic Dobsonian with 4.5″ and 6″ apertures, respectively. The XT4.5 is considerably lighter with a total weight of 17.6lbs. The XT6 is a better value than the XT4.5 with about a $30 higher price tag. Also be aware that the XT8 has better focuser than these smaller dobs.
For an extra $20 (total still under $400), Orion offers an XT8 kit that also includes a 2x Shorty Barlow Lens, a Moon Map, Telescope Observer's Guide book by Richard J. Bartlett, a planisphere, and a red LED flashlight.
It's not a bad deal but performance of the Barlow with the kit lens isn't terrible but it isn't great either. Your money would be better spent buying a 6mm eyepiece instead.
The XT8 Plus model includes a few minor upgrades, an additional eyepiece, a Barlow lens, and a solar filter but is not worth the extra $120. There is also the XT8i IntelliScope that comes with a computerized object locator with a database of over 14,000 objects. It is a PushTo telescope, not a GoTo, as you have to manually move the telescope to locate and track the object based on the arrow directions given by the handheld controller. It is also nearly double the cost of the XT8 Classic and simply not worth it.
Large aperture
Focuser can accept 1.25″ and 2″ eyepieces
Includes collimation cap
Only one eyepiece included
A finderscope would be better than a red dot finder
Need a higher power eyepiece for moon and planets
No accessories like eyepiece rack, cooling fan, moon filter
---

The Sky-Watcher Traditional Dobsonian 8″
 is another popular telescope for beginners. It is typically priced about $25 less than the Orion XT8 making it a great value with the added accessories and upgrades. As mentioned above, the Sky-Watcher and the Orion XT8 are manufactured by the same company so the quality of the optics is very similar. The Sky-Watcher strikes the perfect balance between quality, performance and affordability.
The design of the wood rocker box is slightly different than the Orion XT8. The Sky-Watcher also uses Teflon pads for the azimuth bearings which provide relatively smooth motion. However, the optical tube sits on round Teflon altitude bearings and instead of springs it uses a tension control handle with steel ball bearings to adjust the tension of the altitude movement and provide stability. It also comes with a handy built-in eyepiece rack at the front of the mount.
The Sky-Watcher includes a 9×50 finderscope which is better than a basic red dot finder. The finderscope has 9x magnification with a 50mm aperture which will allow you to detect fainter objects. It's easier to aim your telescope at a target object using a finderscope than with a red dot finder.
The Sky-Watcher comes with two Plossl 1.25″ eyepieces: a 25mm and a 10mm. The 25mm eyepiece provides 48x magnification and the 10mm provides 120x magnification. These are good starter eyepieces and you may wish to add a 6mm wide-angle eyepiece in the future to see greater detail of the moon and planets.
The 2" single-speed Crayford focuser also includes a 1.25" adaptor and can accept eyepieces of both sizes. It is smooth to focus and doesn't cause the image to wobble while adjusting focus.
Unfortunately, the Sky-Watcher does not come with a collimating tool. The telescope comes factory collimated so you shouldn't have to make any adjustments initially unless the package was mishandled or you bumped the optical tube during transport. You will want to buy a simple collimation cap, collimating eyepiece or laser collimator although you could try the no-tool collimation method.
The optical tube is 44″ long and weighs 20lbs with the base weighing an additional 25lbs for a total assembled weight of 45lbs, slightly heavier than the Orion XT8. If the 8″ Dobsonian is too big for your liking or if you want to save some money, Sky-Watcher also makes a smaller Traditional Dobsonian 6″ Telescope. The main differences being that the 6″ version includes a 2″ rack and pinion focuser which is not as good as the Crayford-style focuser and the finderscope is a 6×30.
Good value
Large aperture
9×50 finderscope
Two eyepieces are included
Focuser can accept 1.25″ and 2″ eyepieces
Eyepiece rack
Heavier than Orion XT8
No collimation tool is included
No cooling fan or moon filter
---

Despite being the most expensive of the three 8″ Dobsonians reviewed, the Zhumell Z8 Deluxe Dobsonian Reflector Telescope offers the most value. Although retailing for more than $400, it's frequently on sale and can be purchased while staying within the $400 budget. It is manufactured by Guan Sheng Optical (GSO) which arguably produces slightly higher quality optics with better quality control. The included accessories are definite upgrades over the other Dobsonian options and are more expensive when individually compared, making the Z8 a better deal overall.
A cool feature of the Z8 is the primary mirror cooling fan. The battery-powered cooling fan brings the telescope's optics to ambient temperature faster which means less waiting time and improved viewing.
The Z8's mount uses azimuth ball bearings instead of Teflon pads providing very smooth motion tracking, by far the smoothest rotation of the three dobs. The altitutde movements are adjusted with tension knobs on each side of the rocker box which can also lock the telescope in place. A visual scale allows you to easily adjust the balance of the optical tube depending on the weight of various eyepieces and accessories. The mount also includes a handle and an eyepiece rack.
The finderscope is an 8×50 right angle correct image. This means it has 8x magnification with a 50mm aperture. The right angle is a more comfortable viewing position when pointing near the zenith. The correct image means that the image has the correct orientation making it easier to work with sky maps as the star patterns look the same.
The Z8 comes with two eyepieces. The 2″ 30mm wide-angle (70°) eyepiece provides 40x magnification and is best used for large and faint sky objects such as nebulae, galaxies, and open star clusters. The 1.25″ Plossl 9mm provides 133x magnification, has a smaller field of view and is best used on smaller objects like planets, planetary nebulae, small galaxies, and globular clusters. You may want to purchase a 6mm wide-angle eyepiece and a 15mm wide-angle eyepiece to complement the others.
The 2″ dual-speed Crayford focuser provides both coarse and fine focusing. Make large focus adjustments by turning either of the coarse focus knobs and finish focusing with the 10:1 focus knob. Turning the fine focus knob 10 times equals 1 rotation of the coarse focus knob. This helps especially when viewing at high power. You can use both 1.25″ and 2″ eyepieces with the included 1.25″ adapter.
A laser collimator is included and is a welcome bonus. It makes collimating your telescope a lot easier. The Z8 also comes with a moon filter which will reduce the brightness of the moon to help see more lunar detail.
The optical tube of the Z8 is 45.25″ long and with the base has a total assembled weight of 54lbs. It is the heaviest of the Dobsonians with the extra weight of the base due to the ball bearings. Zhumell does not make a smaller Dobsonian.
Best value if on sale for less than $400
8×50 finderscope (right angle correct image)
Two eyepieces including good quality 2″ 30mm
Dual-speed focuser
Includes laser collimator
Cooling fan for primary mirror
Eyepiece rack
Moon filter
Heaviest of the 8″ Dobsonians
Most expensive
---

Orion also offers the "fully-loaded" SkyLine 8″ Dobsonian that is comparable to the Zhumell Z8 but it is more expensive and slightly over budget by about $50. The SkyLine and Z8 are both manufactured by GSO and are essentially the same telescope with the same accessories but different branding. Everything in the above Z8 review applies to the SkyLine.
The SkyLine mount includes azimuth roller bearings, adjustable altitude tension knobs, and an eyepiece rack. A 2″ Erfle 30mm wide-angle eyepiece and a 1.25″ Plossl 9mm eyepiece are included. The 2″ Crayford dual-speed focuser with fine focus adjustment includes a 1.25″ adapter. Also included is a laser collimator, an 8×50 right angle correct image finderscope, and a primary mirror cooling fan.
The only difference between the included accessories is that the Zhumell Z8 comes with a moon filter and the SkyLine does not.
The optical tube is 45.25″ long and the total assembled weight is 54lbs.
If the Zhumell Z8 is out of stock or you're willing to spend the extra $50, the Orion SkyLine is a really good substitute.
8×50 finderscope (right angle correct image)
Two eyepieces including good quality 2″ 30mm
Dual-speed focuser
Includes laser collimator
Eyepiece rack
Cooling fan for primary mirror
Not typically on sale
Heaviest of the 8″ Dobsonians
No moon filter
---
Comparison of Accessories
Orion SkyQuest XT8
Sky-Watcher 8"
Zhumell Z8
Finder
EZ Finder II reflex sight
(red dot)
9x50 Finderscope
8x50 Finderscope
(right angle correct image)
Eyepieces
25mm Plossl - 1.25"
25mm Plossl - 1.25"
10mm Plossl - 1.25"
30mm - 2"
9mm Plossl - 1.25"
Focuser
2" Crayford
(single-speed)
2" Crayford
(single-speed)
2" Crayford
(dual-speed)
Collimation Tool
Collimation cap
None
Laser collimater
Moon Filter
No
No
Yes
Cooling Fan
No
No
Yes
Eyepiece Rack
No
Yes
Yes
---
Conclusion
You really can't go wrong buying any of these 8″ Dobsonians. The Zhumell Z8 Deluxe Dobsonian Reflector Telescope provides the best value and is our top pick. It comes with high quality accessories including a really good 2″ 30mm eyepiece. If you want to save some money the Sky-Watcher Traditional Dobsonian 8″ is another solid choice. The included 9×50 finderscope and extra eyepiece are a plus. The Orion SkyQuest XT8 Classic Dobsonian Telescope is popular for a reason. It is a reliable telescope with good optics but you'll want to make some upgrades eventually.